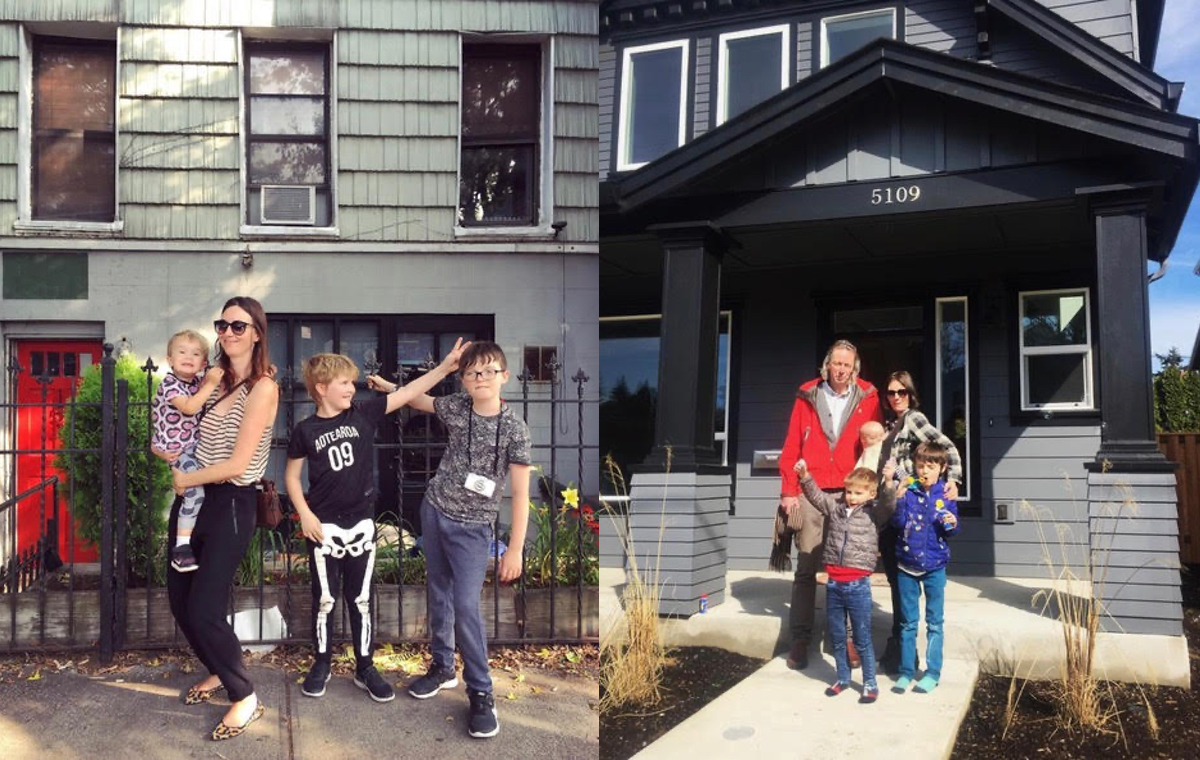 First thing's first: I adore Kate Coats and she is an important person in my life. I feel so SO lucky that I got to meet her and her family AND help them move to Portland! 
Since this was a long distance move for Kate and her family, I actually didn't even meet her in person until she showed up to get the keys to her home from me. This was also literally the first time she had seen her new house in real life! The minute I met her, I forced her to be my friend, and we are! 😉 
Anyway, enough about that! Why did Kate and her family decide to move across the entire country from Brooklyn to Portland? I asked Kate all about her family's big move, from why they decided to move to how their life in Portland compares to life in Brooklyn. A lot of it boils down to affordability, space, and having more outdoor access, but I'll let Kate explain now! 
Q: Why did you move from NYC to Portland? (What made you decide to leave NYC? Why did you choose Portland specifically?) 
Kate: We left NYC for a number of reasons. I adore New York but we knew we wanted to buy a house and the options in our price range in Brooklyn were just heartbreaking. I also work remotely and Matt's work is travel based anyway, so it didn't make much sense to keep our home-base in such an expensive city. We also wanted more greenery, wilderness and nature available to us, it broke my heart that the kids school playground was just a concrete block and they shared it with three other schools! 
I would have loved to have moved to Europe from NY (I'm a Brit) but my husband was keen to give another American state a try first. We gave the Bay Area a shot for a couple of years but it was not for us! I spent time in New Zealand as a kid and have always loved it and when I read that Oregon and NZ had similarities, we figured we would give it a shot. I had not visited Oregon until after our house had closed. 
Q: What was your living situation in NYC (did you rent, own, etc.)? What is your living situation in Portland?
Kate: We had a house in Greenpoint, Brooklyn. We rented. It's pretty rare to find a full house for rent in NY but when we returned from California with two kids we knew we couldn't return to apartment life. Our house was 3 stories with a tiny (TINY) front and back concrete yard space. It had a commercial space on the ground floor which we used as an office and general storage. The house itself was a 2-3 bedroom depending on how you cut it. We loved it! And my youngest was born in the house in a pool in the living room. 🙂 
Living expenses are pretty much the same here honestly. Slightly lower, and we're able to buy into the market which is really the impossible thing in NY. Our rent was around $3,000 a month for the residential space and $1,000 for the commercial. We pay around $3,000 for our mortgage now. We drive more here, school costs, and general life costs are comparable. 
Q: Had you visited Portland before you decided to move here? (If so, how/when did you "know" Portland was for you?) 
Kate: Nope! Matt did come out once with our middle kid to meet up with Lauren and take a look at some places. I don't know that there's ever a "know it's for me" moment. I'm still deciding. Haha. 
Q: How did you decide which neighborhood in Portland to live in? (Which neighborhood in Portland do you live in, and what do you love about it?) 
Kate: Basically we just picked a neighborhood that had a decent school, was walkable, not too far out and we could afford a house in. We didn't have much knowledge to draw on so we relied heavily on Lauren and we honestly lucked out with our hood, it's cute and quiet. We like it. 
Q: How does your current neighborhood compare to the neighborhood you left in NYC? 
Kate: Brooklyn is probably one of my favorite places in the world, so it's hard to compare. But what we have here is just completely different. Here, we have quiet and space and soft comfort. Brooklyn was buzzing, chaotic and creative. I do have to say that I feel Portland struggles far more with homelessness and general street safety, which is surprising to me. 
Q: How do you feel about affordability/cost of living in NYC vs. Portland? (Did your lifestyle change when you moved? Could you afford more/feel more comfortable/etc.?) 
Kate: Honestly, no. I guess we go out less here because there's less to go do. Hahah. Which does save money. We certainly could never have afforded to buy a 3-bedroom house with a yard in our old neighborhood. Ever. But in terms of daily living costs, it's mostly the same. 
Thank you so much for sharing all of this great info, Kate!!
---
Are you ready to pack your bags and leave the big city life for greener (and larger) pastures? Your Local Portland Guide Lauren Goché is ready to help you buy a home in Portland. Get in touch with Lauren here. (She promises not to be a weirdo. Well. Toooo much of a weirdo.).