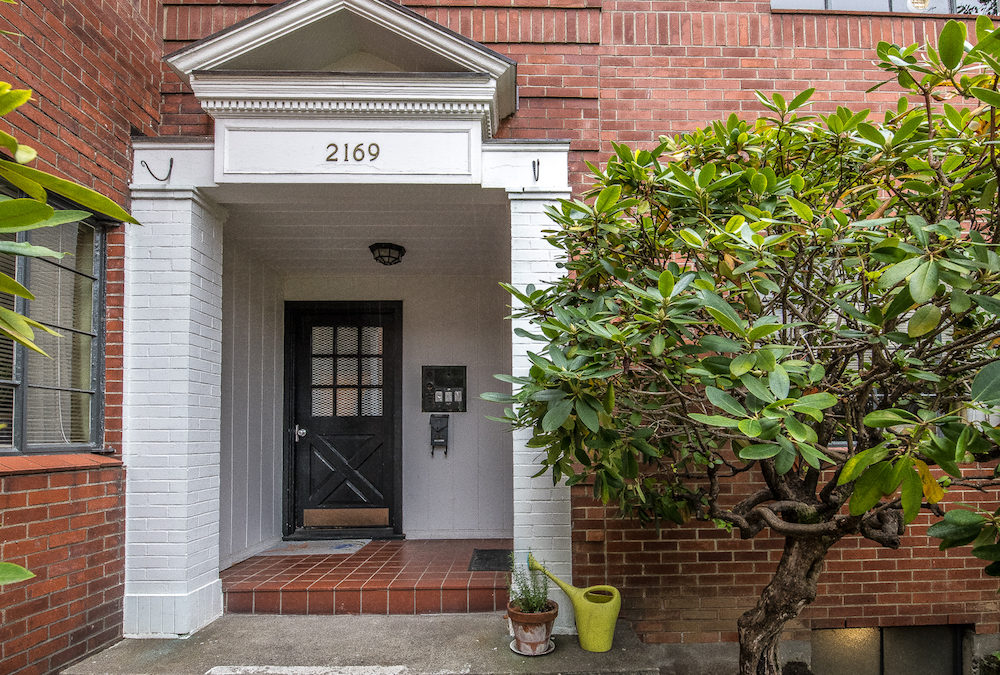 Condos are a softer market in Portland right now, and there is much less demand for condos as a result of the COVID-19 pandemic.
Of course, people want more space (both inside and out), so that's a big reason as to why condos aren't popular right now. But also, people don't want shared common areas—they don't want to share an elevator, and may not even be allowed to use amenities like a pool, hot tub, fitness center, etc. If you're in a condo and paying HOA dues that would normally cover using this stuff and suddenly you can't safely use any of it, people are wondering what they're paying for. People also need more room for their home offices, and lots of people also want private outdoor space.
Portlands Overall Median Price vs. Condo Median Price
For a little context, let's compare Portland's median sale price for all homes sold in Portland's metro area to condos.
In December 2019, the median home price for all homes sold in Portland was $405,000. In December 2020, the median home price was at $455,000. The median sale price for homes sold in Portland's metro area increased by 7.3% from 2019 to 2020.
In December 2019, the median CONDO sale price in Portland was at $323,450. In December 2020, the median condo sale price was at $320,000. This is a 1.1% decrease in price.
If you want to SELL your Portland condo right now, you'll need to…
Price it conservatively.

Your condo needs to be marketed extremely well to stand out from the rest.
A good realtor will know how to advise you on pricing and timing, and they'll be able to market your home right.
To give you more insight into what the condo market is like right now, I recently had a client who wanted to sell their condo in Portland's Alphabet District and buy a single-family home (like everyone else right now).
They bought their condo in 2016 for $430,000, we listed it for $375,000, and they just sold it in December 2020 for $410,000 with 3 offers. 
Even back when they bought their condo in 2016, I advised them that there was a high likelihood that they weren't going to get their money out of it. So when they called me ready to sell, they knew exactly what to expect because of how I was able to advise them during the buying process. (And of course, whether or not a client heeds their realtor's advice is of course up to them!)
Long story short, they did not sell their condo for as much as they bought it for, and that's just how it is right now. 
If you want to BUY a condo in Portland right now, you need to know that I cannot recommend it as a pure investment. If you want a secure place to live and that's why you're buying a condo that's fine, but do not expect to buy it purely as a GOOD investment that will appreciate over time, and don't count on a Portland condo to appreciation the way single-family housing is right now.
In huge cities, sometimes condos are all you can get so it's fine, but not so much in Portland. Condos are often in our more urban areas, and in non-COVID times people want to live in denser neighborhoods because of all the amenities they get access to (live shows, bars, restaurants, shopping, gyms, etc.). Right now if you're in one of these areas, you're paying for conveniences that you don't get to actually enjoy.
However, you CAN get a teeny tiny condo for like $250,000, and there's not a chance in the world you can buy anything within an hour of Portland for that little. So if that's your budget and you're just looking to buy a place where you can build equity, that might be an option. 
Have a question about Portland real estate? I'm here to help. Get in touch!
Curious to learn about buying a single-family home in Portland? Here's what you need to know in 2021!