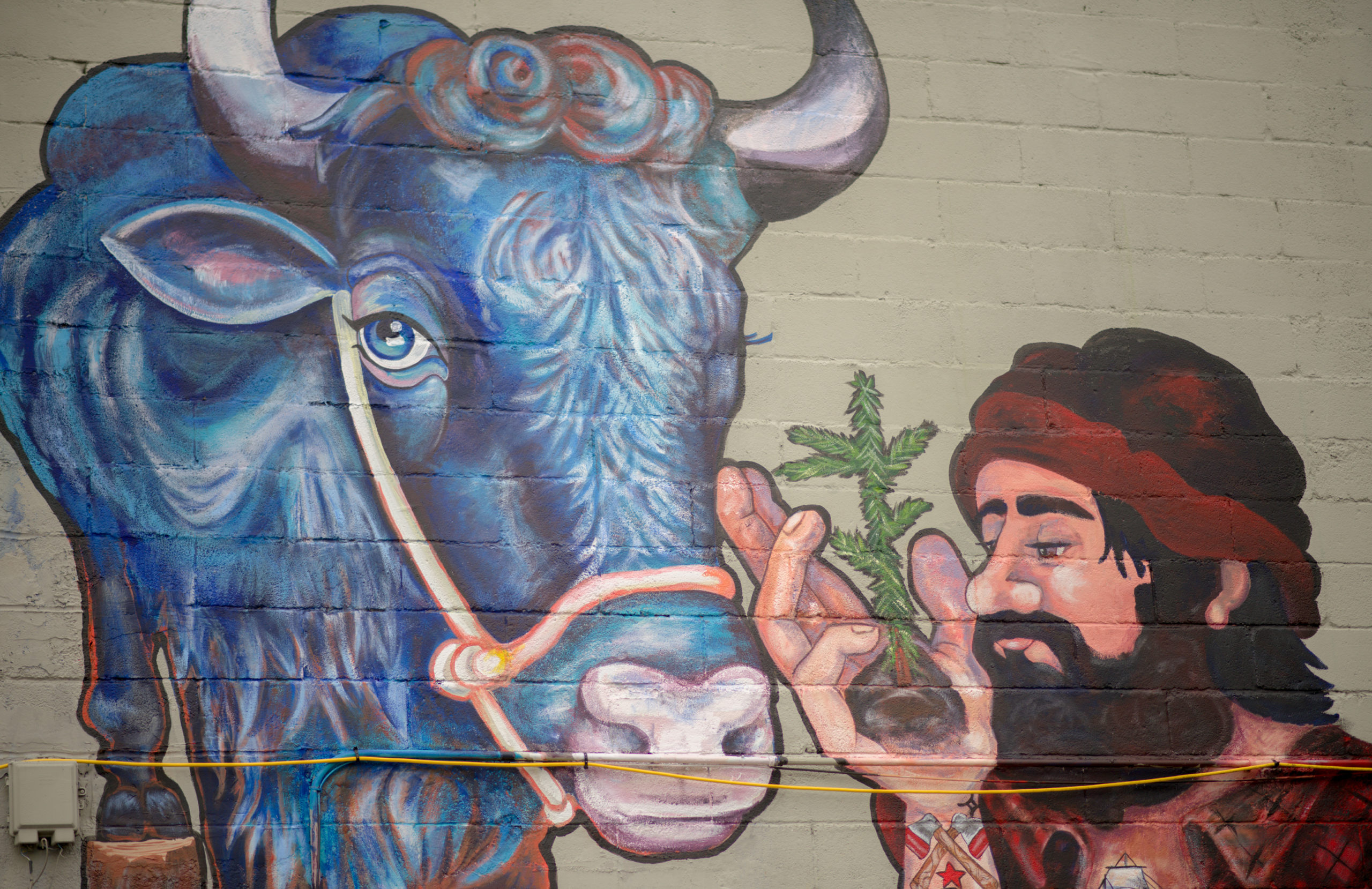 Recently, I shared a survey about Portland neighborhoods on social media. The survey asked people all kinds of questions about commute times, favorite coffee shops and restaurants, and much more, including what they feel the best and worst thing is about their particular neighborhood.
Some Portland neighborhoods received several responses, while some neighborhoods received one or zero responses (and for the neighborhoods that received zero responses, the neighborhood will not be featured below). 
I wanted to share the real, nitty gritty details of what people reported as the worst and best thing about their Portland neighborhoods, and you'll find a long list of responses below organized by neighborhood in alphabetical order. As you read through everyone's faves/least faves, keep in mind that any one perspective does not 100% represent a neighborhood—it's just one person's point of view. 
---
Arbor Lodge
The Best Things About Arbor Lodge: 
"The convenience to grocery stores, gas stations, shops, restaurants."   

"Close to I-5 and grocery stores."

"I love how close I am to everything. The neighbors act like neighbors, say hello/learn your name."  
The Worst Things About Arbor Lodge: 
"The occasional crime/transient traffic (not necessarily related)."  

"Homeless camps a block away." 

"There is a pretty active transient/ homeless population so securing your property is very important." 
---
The Best Things About Ardenwald-Johnson Creek:
"Being right outside of Portland proper, but still being close to everything!"

"The community we've built with our neighbors." 
The Worst Things About Ardenwald-Johnson Creek:
"Flaming Confederate flag mailboxes."

"The Trump loving boomers."  
---
The Best Things About Beaumont-Wilshire: 
"Having two different areas in walking distance with restaurants, bars and shops." 
The Worst Things About Beaumont-Wilshire: 
"Not close to a MAX line and having to take multiple buses to get downtown." 
---
Brentwood-Darlington
The Best Things About Brentwood-Darlington: 
"Down to earth, kind neighbors, elementary school." 
The Worst Things About Brentwood-Darlington: 
"Substance abuse, homelessness, graffiti."
---
The Best Things About Brooklyn: 
"That I have bars and restaurants within a few blocks, but it also feels like a real neighborhood and also safe."
The Worst Things About Brooklyn: 
"Depending on where you live in Brooklyn, parking can be tough when there's a show at the Aladdin." 
---
The Best Things About Buckman: 
"It is so easy to access most parts of Portland by bike or bus."

"Easy walking to coffee and shopping and bars." 

"Location to Portland and local bars."

"It's gorgeous, semi-quiet and green but still bustling and interesting." 

"It's in the middle of a lot of well-known and grown neighborhoods without being too heavily populated. I also love the small neighborhood businesses."
The Worst Things About Buckman: 
"There isn't a good gym close by."

"Nothing." 

"Transient population." 

"Traffic, parking, lack of available rentals." 

"I think this is an issue for many neighborhoods, but trash/litter." 
---
Centennial 
The Best Things About Centennial: 
"Original owners and first time owners mingling, comfy, small-ranch homes with big lots."

"The space in my yard; proximity to Powell Butte Nature Park and other nature preserves."  

"Our neighbors."  
The Worst Things About Centennial: 
"Commute westward… can be slow and side streets are your best friend at times! Big desire and potential for more businesses in the neighborhood so folks don't need or want to travel in. The Portland Gresham lines merge in this area and folks who once lived closer in but wanted some yard space they could afford would love more options! Hidden/forgotten corner of PDX with many first-time owners and retirees who would love to see more grocery stores, bars, eateries." 

"Not walkable, no local spots to hang out at, not a huge community feeling outside of the couple of neighbors we've befriended the last couple years." 
---
Concordia
The Best Things About Concordia:
"Closeness to fernhill and great sidewalks."  
The Worst Things About Concordia:
"Close to a major highway." 
---
Creston-Kenilworth
The Best Things About Creston-Kenilworth: 
"Quiet."

"It's not jam packed." 
The Worst Things About Creston-Kenilworth:
"Too much low income rentals."

"It's eh." 
---
Cully
The Best Things About Cully:
"Super rad neighbors." 

"Fernhill Park."  

"It's quiet but welcoming."
The Worst Things About Cully: 
"Close to 82nd so we get our share of homeless camps."

"Traffic noise." 

"No sidewalks."
---
Eastmoreland
The Best Things About Eastmoreland: 
"The secluded feel of being away from the hustle of the city."
The Worst Things About Eastmoreland: 
---
Foster-Powell
The Best Things About Foster-Powell: 
"Old trees, old houses in good condition, family friendly."

"Space and trees."
The Worst Things About Foster-Powell: 
"Rise in homelessness and related crime. Hopefully the additional shelters will help folks have safe places and less desperate times."
---
Hazelwood
The Best Things About Hazelwood:
"Great Midcentury homes."
The Worst Things About Hazelwood: 
---
Hillsdale
The Best Things About Hillsdale: 
"Great local restaurants, many are dog friendly. It is quick for me to get to Beaverton, downtown, and the east side and I have Hillsdale and

Multnomah Village

to enjoy because they are so close. Feeling of community and acceptance. I love Gabriel Park as well."
The Worst Things About Hillsdale: 
"Car break ins. It was also one of the last neighborhoods in Portland to get TriMet back after the major ice/snow storm a few years ago." 
---
The Best Things About Hollywood:
"The beautiful yards/homes."

"Convenient to shopping and downtown."

"Inexpensive for how close in we are."

"Its location! There's tons of amazing food and activities close by and it's easy to get to anywhere else in the city by the close highway on ramp. But it's also quiet and everyone is super friendly."
The Worst Things About Hollywood:
"The bums."

"Transient issues the closer you live to the MAX station."

"Restaurant options are sparse within walking distance."
---
Humboldt
The Best Things About Humboldt: 
"Its location! There's tons of amazing food and activities close by and it's easy to get to anywhere else in the city by the close highway on ramp. But it's also quiet and everyone is super friendly."
The Worst Things About Humboldt: 
"There's tons of construction and people selling their houses right now, which makes it harder to have a cohesive neighborhood/community." 
---
Irvington
The Best Things About Irvington: 
"Sidewalks lined with trees."
The Worst Things About Irvington: 
"Judgey middle-aged white people."
---
John's Landing
The Best Things About John's Landing: 
"Being close in to downtown and centrally located."
The Worst Things About John's Landing
"It's continuing to get busier all of the time?"
---
The Best Things About Kenton:
"Walking to everything, rarely ever drive, also the smell of the Mondelez bakery making oreos."

"Short walk to the park and downtown Kenton."

"Female-owned businesses."

"The adorable downtown! That it has its own identity within Portland. And how wonderful our neighbors are."

"The vibe."
The Worst Things About Kenton:
"Drivers on Lombard and interstate who are trying to get around the freeway traffic."

"Lots of cars in the streets from lack of driveways."

"Thieves."

"Petty crime. Had our car broken into so many times, and so many packages and mail stolen." 

"The smells."
---
The Best Things About Laurelhurst:
The Worst Things About Laurelhurst:
"Sidewalks are too dark."
---
Lents
The Best Things About Lents:
"The people." 

"How it's growing."
The Worst Things About Lents:
"It can be pretty shady after dark." 

"Can be a little sketchy." 
---
Mill Park
The Best Things About Mill Park:
"The giant fir trees."

"Affordability and scenery."
The Worst Things About Mill Park:
"Crime and lack of sidewalks."

"It's a nice pocket in a not-great area."
---
Milwaukie
The Best Things About Milwaukie:
"Island Station in between two parks, the Willamette, and the Trolley Trail."

"Our apartment backs up against the creek that runs through Milwaukie and it's so quiet. We are close enough to 99 that everything is easy to get to but it's not quite as expensive as our old place in inner Southeast Portland." 
The Worst Things About Milwaukie:
"Distance to places like the airport."

"The management here is super uptight. A lot of older folks that mostly live here and they can be quite closed minded, if not racist/homophobic/misogynistic." 
---
Montavilla
The Best Things About Montavilla:
The Worst Things About Montavilla:
"Lots of debris, including needles. I feel unsafe on the 205 path." 
---
Mt. Scott-Arleta 
The Best Things About Mt. Scott-Arleta:
"Proximity to Mt. Scott Park and Woodstock."  

"Affordable."

"Walkability." 
The Worst Things About Mt. Scott-Arleta: 
"Some residents are selling drugs and stolen property out of their house on our street."

"It's becoming much less affordable."

"Crime." 
---
The Best Things About North Tabor: 
"Walking distance to Mt Tabor." 
The Worst Things About North Tabor: 
---
The Best Things About Northwest District (Uptown, Nob Hill, Alphabet Historic District): 
"Walkability." 

"How walkable it is." 

"I can walk to coffee shops, restaurants, boutiques, and grocery stores. I am surrounded by beautiful Victorian houses, and I am close to

Forest Park

."
The Worst Things About Northwest District (Uptown, Nob Hill, Alphabet Historic District): 
"Cars and parking."

"Gets dirtier every year."

"It is expensive. NW 23rd often feels inauthentic because it is essentially designed for tourists." 
---
The Best Things About Overlook: 
"The views of people's gardens on my walks." 
The Worst Things About Overlook: 
---
Parkrose
The Best Things About Parkrose: 
"Every place has a nice sized backyard!"
The Worst Things About Parkrose: 
"It takes 10+ minutes to drive to things that are interesting." 

"Not super easy freeway access (close but lots of side streets to take to get there)."
---
Pearl District
The Best Things About Pearl District: 
The Worst Things About Pearl District: 
"Not a ton of access to diverse restaurants and bars on the waterfront."
---
The Best Things About Piedmont: 
"I like my house." 

"It smells like cookies because of the Nabisco factory. It's no joke." 
The Worst Things About Piedmont: 
"My two adjoining neighbors."

"Like all of Portland, we have car break-ins. We just do." 
---
The Best Things About Portland Downtown: 
"How centrally located it is. Easy to get to everything on public transportation." 
The Worst Things About Portland Downtown: 
"Very busy in the summer."
---
Portsmouth
The Best Things About Portsmouth: 
"Affordability, proximity to St. John's." 

"Close proximity to everything, freeways, public transportation, the coast up 30,

Forest Park

is my backyard."

"How close I am to things, but far enough away from the craziness of some neighborhoods."
The Worst Things About Portsmouth: 
"Dog poop EVERYWHERE."

"Speeders." 

"Neighborhood teenagers and trash they throw in people's yards… including mine frequently." 
---
Richmond
The Best Things About Richmond: 
"Great restaurants, good public transportation."

"The beautiful houses."
The Worst Things About Richmond: 
"Pricey."

"Lack of parking."  
---
Rose City Park
The Best Things About Rose City Park: 
"Proximity to spots of interest and cool neighborhoods." 

"Location." 
The Worst Things About Rose City Park: 
"Constant development – turning over lots of double lots. Also cross-traffic between Sandy and Halsey." 

"Not a lot of homes have driveways." 
---
Roseway
The Best Things About Roseway: 
"My neighbors."

"Our nearby park and walkable shops."

"Family-oriented."
The Worst Things About Roseway: 
"No close places to walk to for coffee and good food… but it's coming."

"Proximity to 82nd."

"Lack of stop signal."
---
Russell
The Best Things About Russell:
The Worst Things About Russell:
"Need a walkable grocery store besides Winco." 
---
The Best Things About Sellwood-Moreland: 
The Worst Things About Sellwood-Moreland: 
---
South Portland (Corbett, Fulton, Lair Hill, Terwilliger)
The Best Things About South Portland (Corbett, Fulton, Lair Hill, Terwilliger): 
The Worst Things About South Portland (Corbett, Fulton, Lair Hill, Terwilliger): 
---
The Best Things About South Tabor: 
The Worst Things About South Tabor: 
"Sometimes feels oddly desolate." 
---
Southwest Hills
The Best Things About Southwest Hills:
The Worst Things About Southwest Hills:
"No sidewalk or interesting places."
---
St. Johns
The Best Things About St. Johns:
"The community." 

"It's very old Portland." 

"Pier Park."
The Worst Things About St. Johns:
"The theft and the amount of fast changes without caring what the community needs and wants." 

"Crime." 

"Trash on sidewalks." 
---
The Best Things About Sunnyside:
"Easy bike/bus/walk to everything central to Portland (best restaurants, Moda Center,

Laurelhurst Park

, cheap movie theaters, music venues)." 
The Worst Things About Sunnyside:
"Occasionally difficult to find street parking."
---
University Park
The Best Things About University Park:
The Worst Things About University Park:
"Not enough good restaurants." 
---
Woodlawn
The Best Things About Woodlawn: 
"Easy to get to many parts of town."
The Worst Things About Woodlawn: 
"Gentrification blindness."
---
Woodstock
The Best Things About Woodstock: 
"Walkability, access to food/shops, access to public transportation, older neighborhood."
The Worst Things About Woodstock: 
"Builders that ignore the character of the neighborhood when building new homes. Builders building homes/apartments without driveways or parking."